Graphine September 7th 2016
Granite for experts: Summer tutorials. Ep#2: Substance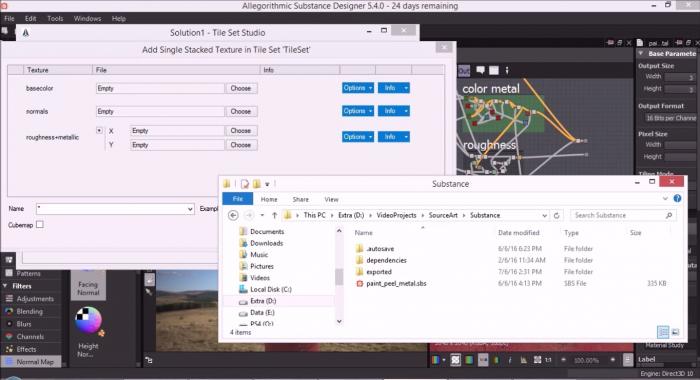 We hope you had a great Gamescom! So did we. Among others, we hope you noticed the announcement of our partners Wargaming's next project Hybrid Wars. Now that you're back at the office, take a break and watch our second episode of Granite tutorials.
This video explains how you import materials from Allegorithmic Substance designer into Granite using Tile Set Studio. TS Studio can import almost any common image format. To import Substances in Granite, we therefor start by exporting the outputs as bitmaps in Designer. These files can then be dragged into Studio to create a Stacked Texture. Once you are finished adding textures, TS Studio will build a Tile Set that contains the content in a tiled and compressed format. This Tile Set acts like a database of textures. To use it in Unreal Engine 4, just import the .GTS file. The UE4 importer will generate all the Granite Textures (that map to one Stacked Texture) and make them available in the content browser. You can also configure the importer to generate a material per Granite Textures. You can easily tweak these materials later on, just like you would with any material.
We hope you will enjoy it and find it relevant. Please feel free to give us feedback on the quality of the video and how we can improve it. You can find our other tutorial videos on this page. We'll post a few others in the coming days so stay tuned! And of course, feel free to drop us an email if you have any questions.
---